Roomba® s9+ & Braava jet® m6 Refill Kit
$129.96
Price reduced from

$130.96

to
Service your Roomba® s9+ & Braava jet® m6 & save on shipping
Limited Time Offer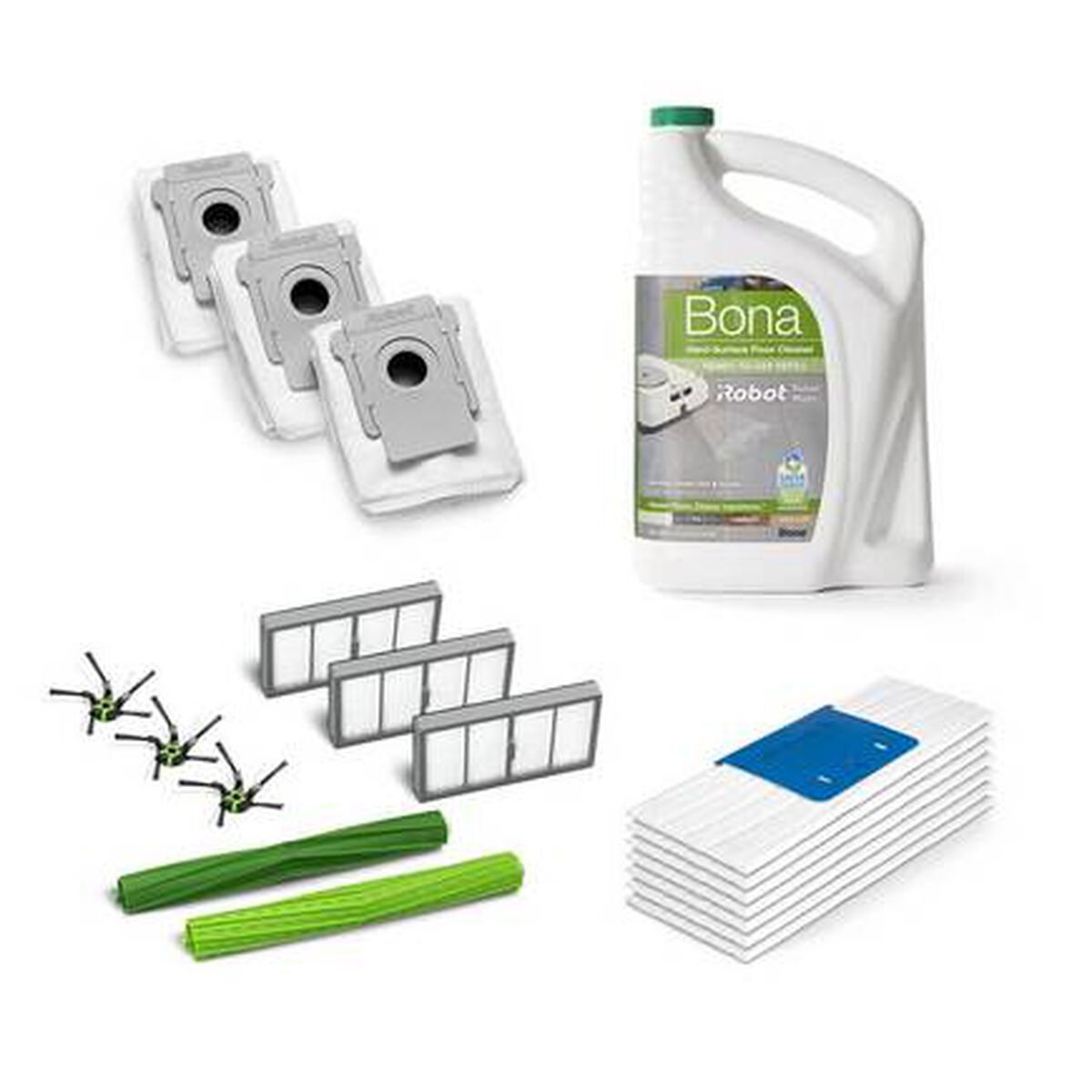 Filters, Corner Brushes, Multi-Surface Rubber Brushes are compatible with Roomba® s9+ robot vacuum only. Wet Mopping pads compatible with Braava® m Series robot mops only.
Roomba® s9+ & Braava jet® m6 Refill Kit
$129.96
Price reduced from

$130.96

to
Service your Roomba® s9+ & Braava jet® m6 & save on shipping
Limited Time Offer
Roomba® s9+ & Braava jet® m6 Refill Kit
Includes- 3 filters, 3 Corner Brushes, 1 Set of Multi-Surface Rubber Brushes.
The High-Efficiency Filter captures and traps 99% of dog and cat dander allergens.
The Corner Brush is specially designed at a 26 degree angle, using five 30mm brushes to clean deep into corners and along wall edges.
The wide Dual Rubber Brushes clean large areas efficiently and work together to help get floors thoroughly clean. One brush loosens and agitates dirt, and the other moves in the opposite direction to extract and pull it in.
Contains everything you need to help maintain your robot's cleaning performance in one convenient kit.
Compatible with Roomba® s Series Robot Vacuums Only.
Dirt Disposal bags
Enclosed bags hold dirt and debris for easy disposal without the cloud of dust. Compatible with the i, s, and j series Clean Base® Automatic Dirt Disposal.
Braava jet® m Series Wet Mopping Pads (7-Pack)
Wet Mopping pads feature wicking fibers to help break-up sticky messes, grime*, and kitchen grease.
*Tested in spot clean mode.
Bona® Hard-Surface Cleaning Solution
Streak-Free Formula​
This streak-free, fast-drying solution removes dust, dirt and grime quickly and easily. ​
Residue-free​
Leaves nothing behind but a gleaming floor. No residue, no stickiness, and no build-up. ​
Ready-to-Use​
No mixing, no measuring, and no rinsing. Just fill your Braava jet® m6 robot, and let it do the work for you.​
Certified for Braava jet® m6 robot​
Bona® Hard-Surface Floor Cleaner works with your Braava jet® m6 robot to care for your Hard-Surface floors, revealing their natural shine and beauty.​
Cleaner Floors. Cleaner Ingredients.​
Bona floor cleaners are crafted with plant-derived ingredients. Always water-based and biodegradable, Bona® solutions are safer for you and our planet.​
How do I replace Clean Base® Dirt Disposal bag?
To purchase replacement bags
Please visit the iRobot Store - Parts and Accessories or use an authorized retailer to order a part.
To replace a full bag
If there is a solid red LED lit up on your Clean Base® Automatic Dirt Disposal, this means the bag will need to be replaced.
Follow these simple steps to replace the bag.
Lift up the lid of the canister lid to open.
Pull up on the plastic card leading to the vacuum port and lift up to pull the bag out of the canister.
Note: This will seal the bag so no additional dust or debris can get out.
Discard the used bag.
Place a new bag into the canister, sliding the plastic card into the guide rails.
Press down on the lid making sure it is firmly closed.
Note: The solid red LED can also mean a bag is not being detected. Please ensure the bag is fully secured into your Clean Base® Automatic Dirt Disposal before closing the lid.
Note: To achieve optimal performance with your robot and Clean Base®, clean and/or replace your robot's filter, as needed.
Braava jet® m Series: How do I install a pad?
Please follow these simple steps to properly install and discard your Braava jet® m Series Robot Mop's Cleaning Pad.
Pad Installation:
Place your robot mop on a clean flat surface.
Tilt it upward with the wheels facing toward you.
From the top of your robot mop, slide the pad down into the pad tracks until you hear it click into place.
Pad Removal:
To discard your Single Use Cleaning Pad, simply lift your robot mop up by the handle and press the pad eject button to drop the pad into a trash container.
Bona® Hard-Surface Cleaning Solution
Bona® Hard-Surface Floor Cleaner is safe for all linoleum, stone, terrazzo, vinyl, sealed porous marble, laminate, LVT, and no-wax sealed tile (ceramic, Mexican Saltillo, quarry). Your Braava jet® m6 robot mop is designed to clean hard floor surfaces like wood, tile, vinyl, linoleum, and laminate.​
Water-based, biodegradable, and free of phthalates and parabens.​
Dries fast and residue-free for a streak-free shine.​
Ready-to-use. Just fill your Braava jet® m6 robot mop with the pre-mixed Bona® solution, and let it do the rest of the work for you. ​
Meets the U.S. EPA product standards for Safer Choice Certification. Contains ingredients that are safer for people, pets, and the planet.​
Packaging may vary.​
This Kit includes:
3 High-Efficiency Filters
3 Corner Brushes
1 set of Multi-Surface Rubber Brushes
3 boxes of Dirt Disposal Bags
Braava® m Series Wet Mopping Pads
Bona® Hard-Surface Floor Cleaner
Why buy at iRobot.com
Free shipping & returns on all robots
Pay over time with Affirm